ADDMAN had a great showing at the AMUG Technical Competition, taking home two 2nd place finishes in the Advanced Finishing and Advanced Concepts categories. The Advanced Finishing category recognizes the skills and artistry applied to additive manufacturing technologies. In this category, ADDMAN's entry featured a collection of characters from the popular 80s cartoon and toy collection, Transformers.
Advanced Finishings Category
The showcase featured six detailed character descriptions, including Soundwave, Laserbeak, Ravage, Rumble, and Frenzy, as well as the base and main gun. Each character was produced using different materials and techniques and required a significant amount of data manipulation, taping, hand painting, and finishing to bring to life.
Soundwave, the main character, was created entirely in Bioclear by Covestro due to the Stratasys Neo450's exceptional ability to capture intricate details. Laserbeak, Soundwave's mechanical bird, had its main body printed on a Carbon M3 using RPU70 to capture superior feature detail, while the wings were printed on a Polyjet J850 to add some variety. The back thrusters were printed from Niobium and hand finished and polished on a lathe, and two sets of stainless steel blasters were created using 3D printing technology and finished on a lathe.
To bring the pieces to life, airbrushing, hand painting, washes, dry brushing, and hand polishing techniques were employed, particularly in the metal portions of the pieces. The pieces were segmented into various colors, requiring extensive taping to distinguish between them.
Overall, ADDMAN's entry in the Advanced Finishing category demonstrated a unique and high level of craftsmanship and creativity in the post-processing aspects of the models. The attention to detail and use of multiple materials and techniques contributed to their success in the competition. Learn More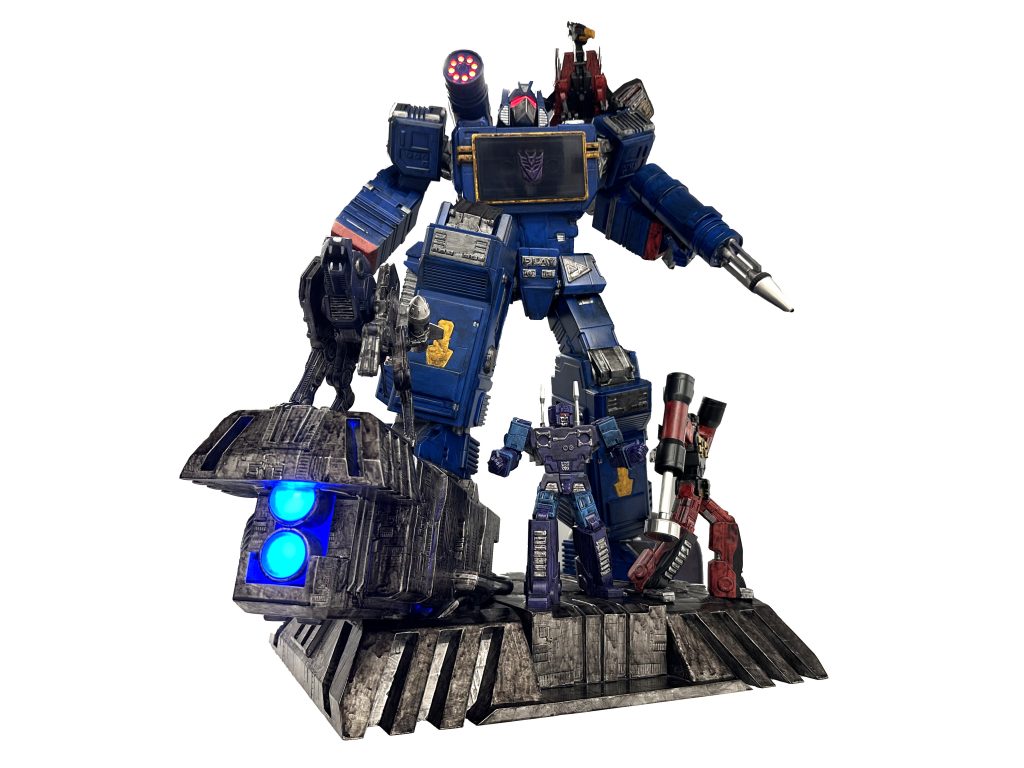 Advanced Concepts Category
The Advanced Concepts category aims to recognize individuals and their organizations for exemplary work utilizing additive manufacturing technologies. Entries in this category will "push the envelope" for a particular technology or a combination of technologies. These entries should showcase innovative elements of the additive manufacturing workflow.
Through our CAAM methodology, we aim to create a more efficient and effective process for polymer additive manufacturing, where parts can be designed and produced with higher strength and accuracy. This methodology involves a combination of software optimization, material science, and machine parameter optimization to produce the best possible outcome for each project.
Our Advanced Concepts Entry, InterFill 3D, is an example of how our CAAM methodology has resulted in a revolutionary build prep tool that creates stronger, more durable parts with less porosity. By converting conventionally sliced files into an interlocking infill structure, InterFill 3D produces parts that are up to 70% stronger than traditional 3D printing methods. This technology has the potential to transform industries that rely on strong, durable parts, such as aerospace and automotive manufacturing.
Overall, our second place win in the Advanced Concepts Category is a testament to the dedication and innovation of the ADDMAN team in advancing the field of additive manufacturing. We will continue to challenge conventional thinking and develop new approaches to create stronger, more efficient parts.