The investment delivers post-processing freedom and print uniformity for medical white nylon components.
Dinsmore, an ADDMAN Group company, has installed an HP JetFusion 5420W 3D printing solution. The purchase marks a wave of significant capital equipment investment from Dinsmore's parent company, ADDMAN Group, both in the realm of polymer and metal additive manufacturing solutions. Dinsmore was selected by HP as a beta partner to develop this cutting-edge technology to meet the growing demand for medical-grade 3D printing. The machine offers consistency and precision with a sustainable manufacturing promise. It was installed in the company's Irvine, CA production center in early March.

Dinsmore is one of the few manufacturers in North America that have access to this technology.
"We are thrilled to formally announce the new addition to our arsenal of 3D printing technology as an early adopter of the HP JetFusion 5420W machine," said Jay Dinsmore, Founder, Dinsmore, and Executive Vice President, ADDMAN. During the year-and-a-half-long beta program with HP, Dinsmore played a crucial role in driving the development of medical-grade white nylon, which has become a key differentiator in the market for this machine. As part of the beta partnership, Dinsmore printed benchmark parts and provided valuable customer feedback to HP. Thanks to this collaboration, Dinsmore is now among a select few MJF suppliers that offer medical-grade white nylon to its customers.
"Medical is an area Dinsmore has always been well-ingrained in, and now we can deliver parts to our customers that perform better but are also more sustainable."
"We've been big proponents of HP technology during Dinsmore's history. When I met with the HP team, I was blown away by the capability this machine was going to add to our operation. Medical is an area Dinsmore has always been well-ingrained in, and now we can deliver parts to our customers that perform better but are also more sustainable." Dinsmore continues. Aligning with sister company HARBEC's philosophy of green manufacturing, the HP machine enables Dinsmore to produce lower carbon footprint parts with a broader range of material reusability.
The production-class solution is equipped to support development projects as well as complex and customized production part runs for customers. It has a build volume of 380 x 284 x 380 mm and prints at speeds of 3380.84 cm3/h.  Dinsmore will use the printer to produce medical-grade white nylon prosthetics, surgical tools, digital anatomy aids, and implants.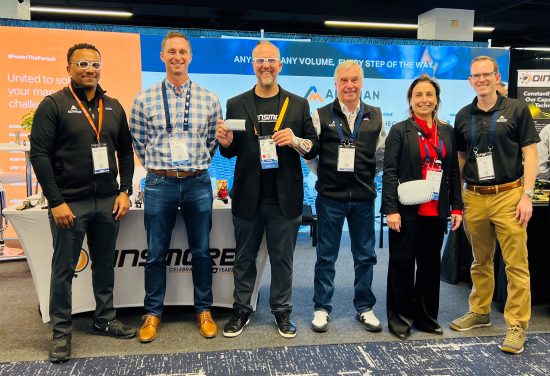 HP and ADDMAN leadership celebrate the machine installation and beta-period success at AMUG 2023.
"Our long-standing partnership with HP has enabled us to consistently deliver innovative solutions to our customers. Dinsmore's purchase of the HP multi-jet fusion machine represents a significant milestone in our company's growth and commitment to providing top-quality 3D printing solutions to the medical industry. I'm proud to be lock and step with the team at HP during this point in our journey and know they will support us into the future." states Dinsmore.
Dinsmore's commitment to providing top-quality 3D printing services for the medical industry aligns with the ADDMAN Group's continued investment in medical technology. Directly following Dinsmore's acquisition by ADDMAN, the purchase is a testament to the promise ADDMAN and Dinsmore made to clients by joining forces.
Joe Calmese, CEO, ADDMAN concludes by stating "Our purchase of Dinsmore's HP JetFusion equipment is yet another testament to the promise we made our clients by joining forces together earlier this year. Our investment strategy is heavily aligned with our mission to deliver top-quality manufacturing capabilities to the medical industry across modalities. We have plans to grow our presence in the space significantly. With a focus on precision and sustainability, ADDMAN is proud to support our portfolio companies, and ultimately our customers, in meeting the growing demand for medical-grade 3D printing."
Dinsmore is production-ready with the HP machine and able to fulfill immediate orders with this technology.
Click here for machine details